Author

DARKROOM

Date

15.11.2017
The Scandinavian origin of the brand Leon Louis is combined with a Japanese approach to design.
THE VALUE OF MANUAL WORK
Leon Louis, creator and founder of the eponymous brand, was born in Aarhus, Denmark's second largest city. Louis formulated the main principle of his brand as "the value of manual work" - he carefully reconstructs old handicraft techniques and is renowned throughout Europe for his ability to find and rethink materials. The Scandinavian origin of the brand is combined with a Japanese approach to design, in which the wardrobe is turned into a work of contemporary art; Leon Louis items are Danish in their minimalism and Japanese in the complexity of their cut.
LEON LOUIS AW17 CAMPAIGN
LEON PUTS TRADITIONAL TECHNIQUES ABOVE INNOVATION
Leon says that he puts traditional techniques above innovation - paying tribute to the craftsmanship of European masters who have learned to work with natural materials over many centuries. However, Leon Louis' approach to design is absolutely innovative: for all his love of minimalist decor, Louis prefers complex textures.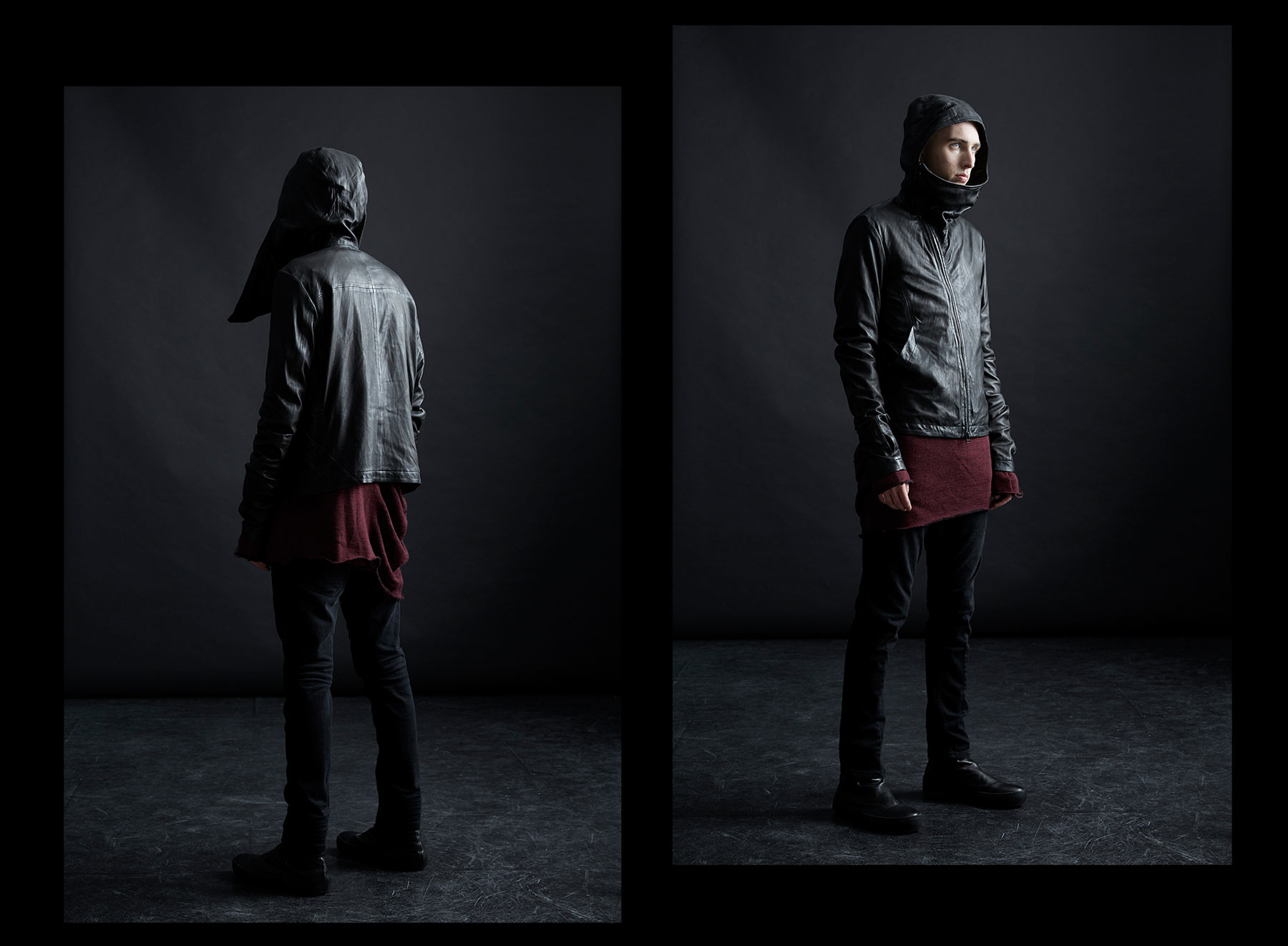 LEON LOUIS AW17 COLLECTION
A COMBINATION OF CRAFT AND AVANT-GARDE
One of the main hits of Leon Louis, for example, the brand's leather jackets, are made as follows: cut from cold tanned leather, the parts are first soaked and then dried in a special way, and then polished – resulting in a nobly aged look for the finished item, as though you had come across a leather jacket from the early 20th century and asked a Japanese designer to sew laconic modern jacket out of it a. Leon sometimes laughs at his own passion for manual work and turns it into a hyperbole; the brand has a recognizable way of fastening the buttons, for instance - they are sewn with coarse threads right through, making an independent element of decoration from brutal stitches. This combination of craft and avant-garde is Leon Louis.
Wet silk, knitted cotton, jerseys, cold dyed denim, calfskin - the master of the brand knows how to work with any materials, and the cutters create surprisingly anatomical patterns so that the presence of the clothes on the body is barely felt at all. Leon Louis works equally well with both men's and women's clothing: skilfully emphasizing the features of the male and female figure - something not always achieved by other avant-garde brands: the women's line has perfectly fitting tailored jackets and tops with deep necklines, along with jackets and coats that place an emphasis on the shoulders.
Leon Louis is rapidly gaining in popularity and his team is growing, but Leon is still intimately involved in the production and can personally make anything from start to finish – something every designer who claimed to be a couturier would have had to do in the last century. Traditions are combined with innovations here too, as the couture of the 21st century is not one of dresses embroidered with beads, but leather that sits like silk, and silk as imperceptible as a second skin.